Firmware van de MINIX NEO U9-H is nu beschikbaar.
Er is een nieuwe FOTA update voor de MINIX NEO U9-H.
Deze is makkelijk te installeren via de Wiress-update app die op de MINIX is geïnstalleerd.
Lees hieronder meer.

Hou je MINIX in topconditie en klik met een regelmaat op de Wireless Update knop van MINIX.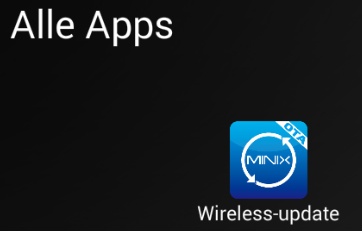 Wat is er bij deze update gedaan?
Dear all U9-H users,

We're pleased to announce the 2nd official firmware for NEO U9-H: FW004A, 20170412

Users with FW003 (our production firmware) & FW004
may update to FW004A simply by our MINIX OTA app.
NOTE: Adoptive storage is not supported by our OTA.

Here is the change log:

1.) Fixed the system brightness issue
2.) Added new Samba server function (Run -> \\your U9-H's IP)
3.) Added 1080p resolution support for web camera
4.) Temporarily disabled the HDMI spoofing feature (we're re-developing a bug-free approach)
5.) Fixed write/delete permission issues of some apps (e.g. Solid Explorer)
6.) Fixed a bug when using 128/256GB TF card
7.) Fixed some Daydream related bugs
8.) Fixed a bug that Bluetooth re-enabled itself during each boot cycle
9.) Fixed an .avi video playback issue
10.) Added Celsius/Fahrenheit option to MINIX launcher
11.) Added Wi-Fi/Ethernet shortcuts to MINIX launcher
12.) Fixed audio passthrough issue of FW004

OTA update procedures:1.) All Apps -> System update (MINIX OTA app) -> Check for updates
2.) Download the OTA update package
3.) Confirm to update and let the system to reboot and complete the update process

To enable the new Kodi 17 passthrough:
1.) Go to Settings -> Audio -> Digital Sounds
2.) If you use a HDMI amplifier, just leave it as "PCM"
3.) If you use a SPDIF amplifier, choose "SPDIF"
4.) If you don't have an amplifier, simply leave this option as "PCM" (default)
5.) In Settings -> Security & Restrictions -> Unknown sources -> On -> OK to confirm
6.) Download and install official Kodi 17.1 stable version or latest nightlies
7.) Enable passthrough in Kodi settings, you DON'T have to if you don't have an amplifier.
8.) Check those passthrough options supported by your amplifier.

Zo hou jij jouw MINIX* in topconditie:

Start je MINIX op
Ga naar de Wireless-update app en klik erop.
Zodra er een update is installeerd deze zich vanzelf na bevestiging.
Herhaal na dat alles op nieuw is opgestart en het begin scherm er weer komt.
Klik net zolang erop totdat je in beeld krijgt dat je systeem up to date is.!
* Deze FOTA app zit op de MINIX NEO X6 X8 serie, U1, U9-H en Z64 Android serie.